Congratulations to our Year 13 students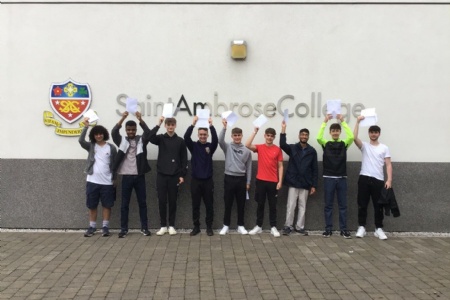 It has been a morning of jubilation at St Ambrose College with Year 13 students receiving their A2 examination results.
Widespread celebrations took place this morning for our Year 13s as the vast majority received confirmation of their first choice place at university. Having previously received grades via CAGs and TAGs in 2020 and 2021 respectively, this year saw the return of the usual examination season, albeit with amendments in some subject areas.
There has been much to celebrate, not least that more than 80% of grades were between A* and B, up significantly since exams were last sat in 2019, and around 50% of grades awarded at A* or A. These excellent grades have ensured positive value added based on the GCSE grades awarded in 2020.
Individual success stories include Thomas Mc who achieved an incredible 5 A* grades and will now take up his offer to read Natural Sciences at Sidney Sussex, Cambridge University and Felipe W whose 4 A* grades ensure that he will also take up his offer from Cambridge to read Engineering at Churchill College. Ronan Mc's 2 A* grades and 1 A grade mean that he too will take up a place at Cambridge to read English. A host of other students have attained straight A* grades including Karam AW, William T, Myles S, Theodore S, Oliver F-F and Lorcan B, with dozens of other students achieving a combination of A* and A grades across the board. More than 25% of students achieved an average of 50 points per entry, meaning that their average grade was at least a grade A.
Reflecting on the results, Principal Dermot Rainey paid tribute to the hard work of both the students and staff, particularly given the uncertainty and challenges over the past 3 years. He stated, "We need to remember that aspects of these courses were delivered remotely during 2020/21 and the students didn't sit their GCSE exams in 2020 so it was a more challenging experience for them. It certainly hasn't been easy on the students and we couldn't be prouder of how they've adapted and overcome each hurdle with incredible maturity. The grades they have received this morning are fully deserved and we are all delighted that they reflect just reward for their endeavours throughout their time in our Sixth Form."
Popular university courses for the outgoing Ambrosians include various engineering pathways, Law, Medicine and numerous other courses relating to Maths and Science. Michael N, Ehi I and Jacob K are among those students embarking on a degree in Medicine; Ehi takes up his place at Leeds, Michael at Liverpool and Jacob at Manchester.
Mr Rainey concluded, "We wish all of the gentlemen the very best in the next phase of their journeys, but remind them that they will forever be part of the wider St Ambrose community."