Celebrating GCSE Success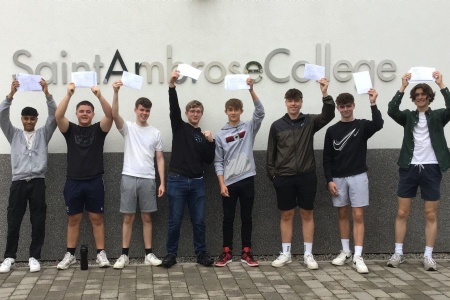 Congratulations to our GCSE students on their fantastic, record-breaking results.
Students have been celebrating record-breaking GCSE results, with the attainment 8 score rising to the highest it has ever been, inclusive of 2020 and 2021 when grades were awarded by teachers.
Delighted Principal, Dermot Rainey, stated, "Given the national statistics around the awarding of top grades in 2021, for the students to have attained more than 5% grade 9's than in 2021 and almost 10% higher with grades 9-8 is a fantastic achievement. Both the students and staff deserve every credit. To be able to secure these results whilst participating in extensive enrichment opportunities speaks volumes for the attitude and focus of the students and they richly deserve these outstanding outcomes. Much has been written already about the disruption to their education in recent years, not to mention the wider pastoral and societal challenges posed by the COVID 19 pandemic so to attain these results in such circumstances is a phenomenal effort."
Individual success stories include Ben H and Gabriel K who attained a remarkable grade 9 in all subjects, and Kevin A and Adam K who were among numerous other students who missed out on this incredible feat by just one grade. George D and Conor H were some of the students to have attained the maximum of 90 attainment 8 points. Lukas F's 90 attainment 8 points means that he made an average of almost 4 grades per subject more progress than projected from key stage 2.
The record-breaking results have ensured larger than ever numbers entering the college's already thriving Sixth Form.
Congratulations!