Careers Information, Advice & Guidance (CEIAG)
NOTICE: Unfortunately, due to the current school closure and national lockdown, the 2020 work experience programme for 4th year and lower sixth students has been cancelled.
In the current economic climate, it is important that our students are given the best possible chance to find information on the education and training available to them post-16, and the careers pathways beyond education.
St Ambrose College has a rich and varied careers programme which includes: access to a dedicated Careers Adviser; drop-in Careers Clinic sessions with the Careers Advisor; visits from industry experts; a monthly lunchtime Careers Cafe; faculty led careers events; an annual Careers Conference with over 50 industry and apprenticeship contributors; careers assemblies; department trips; university visits; and mock interview practice.
We offer all our 4th year and lower sixth students a 1-2-1 careers appointment with Mr Andrew Heydeman as standard. Additional appointments are also available on request. Extra provision is also made for pupil premium and SEND students.
For further information and for our full offer, please see the Careers Programme attached below.
leavers destinations 2019
We work proactively to support our leavers' in their progression onto further education, training and employment. Data captured in September 2019 of the activity of our recent 2019 sixth form leavers, indicate that 83% have continued in higher education, 3% progressed onto Apprenticeship programmes and 14% of leavers took a year off to work, travel, and continue to assess their options.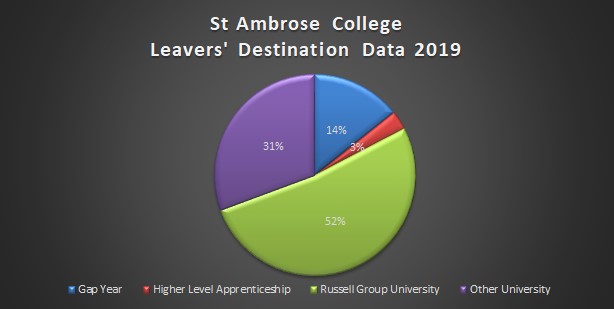 careers information for students
We have a full and structured careers programme to help guide you in your careers choices and pathways throughout your time and St Ambrose and beyond. You will see a qualified careers adviser in 4th year and lower sixth and can request additional appointments if you feel you would benefit from one. The is a wealth of information in the tabs on the right-hand side for you to browse and familiarise yourself with. If you feel there is anything missing that you would like more information about, please do contact Mrs Coultas who will try to accommodate your request.
careers information for parents
Most of what you will need to know about your son's career's journey at St Ambrose can be found in the careers programme, linked below, or the information tabs on the right-hand side. If there is anything you would like more information about, please contact Mrs Coultas.
Additionally, we rely on the kind involvement of our parent community to run successful events such as the careers cafes and annual convention and always welcome our parents to come into college and talk about their careers. If you would like to take part, please fill in the jot form here.
careers information for teachers
Please see the Labour market Information link opposite for information on how you can link careers to curriculum learning. The section includes up to date LMI and practical tips on how to use it in lessons.
For hundreds of short videos linking your subject area to careers you may find www.ICould.com useful. You can search by subject area, allowing you to see the career options available to students studying a certain subject.
If a student in your form requires a work experience form, you can direct them to the download section opposite.
There is a teacher feedback form in the feedback link opposite to be used when directed, or when you have any feedback for the careers team.
careers information for employers
St Ambrose College recognises the value that employers can provide to young people's education and as such welcomes offers of support and involvement from employers across all industries. St Ambrose hosts several Careers events throughout the academic year where employers, training providers and representatives from Further and Higher Education are welcome to get involved. Please contact Mrs Coultas if your organisation would like to engage with the CEIAG at St Ambrose College.
careers information for alternative providers
St Ambrose College recognise the importance of providing our students with the full range of options available to them, along with the knowledge to make informed decisions about their further and higher education. There are a range of events throughout the year that you can apply to be involved in, further details can be found in the careers events tab opposite. Our full provider access policy is available below.
Contacts
We have a team of staff dedicated to the fulfilment of our careers programme: